Chiboard Skater Deck is designed for skaters by skaters. It is dedicated to be your second skateboard you can take everywhere with you. Its shape is tailor-made to respect the shape of a skateboard for being able to perform all skate tricks. Its symmetric and both faces are able to ride.
Whenever you don't skate, you have the Chiboard Skater! You are at home, it's raining, skatepark is far away, no problem! Ride your Chiboard Skater when there are no conditions, when you going to warm-up before skating, or warm-down after skating. Get on your Chiboard Skater, your feet will do the rest. Ollie, kick flip, shove it, 180, heel flip, hard flip, kick back, finger flip, caveman, all you can eat! 
If you are a bada** skater and already have a roller, go ahead and get this deck. If you don't have a roller, scroll down and navigate to one of the all-in-one sets responding to your skill levels.
Technical Specs
| | |
| --- | --- |
| Length | 80cm (31') |
| Width | 24cm (9'') |
| Directions of ride | 360° |
| Number of stopers | 0 |
| Maximum weight | 90kg (200lbs) |
Sets including Chiboard Skater Deck
Subsidiary items
This item is only a deck. To take a look at the all in one sets, click here. Subsidiary items are the following:
Categories
Board sports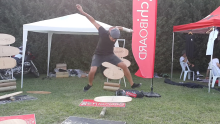 Skateboard