Chiboard Skater Rookie Set
We are doing our best to dispatch shipments during local lockdowns but impediments are probable. Hence we may only be able to send your order after the lockdown. Please be aware. Shipments are scheduled every Tuesday and Friday during Covid19 period. We isolated our processes for our employees security. There can be delays due to Covid19 related shipment issues. Thank you for your understanding.
Chiboard Skater Rookie Set consists of a Chiboard Skater Deck, and a Chiboard Rookie Roller. It is designed for skaters by skaters. Its shape is tailor-made to respect the shape of a skateboard for being able to perform all skate tricks. Its symmetric and both faces are able to ride.
Whenever you don't skate, you have the Chiboard Skater! You are at home, it's raining, skatepark is far away, no problem! Ride your Chiboard Skater when there are no conditions, when you going to warm-up before skating, or warm-down after skating. Get on your Chiboard Skater, your feet will do the rest. Ollie, kickflip, shove it, 180, heelflip, hardflip, kickback, fingerflip, caveman, all you can eat! 
Tech specs for deck
| | |
| --- | --- |
| Length | 80cm (31'') |
| Width | 24cm (9'') |
| Directions of ride | 360° |
| Number of stoppers | 0 |
| Maximum weight | 90kg (200lbs) |
| Shape | Skater |
Tech specs for roller
| | |
| --- | --- |
| Length | 50cm (20'') |
| Diameter | 9cm (4'') |
| Difficulty | Rookie |
Categories
Board sports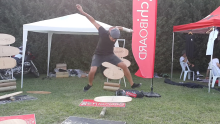 Skateboard