Chiboard Yogin is the happiest yoga board that offers a space beyond the usual for yoga practice. It is a pleasant tool for yogis who want to integrate a different experience to the practice made on a fixed ground and want to get out of the comfort zone.
Practicing yoga poses on a moving ground contributes to both physical coordination and mental concentration. The effort to achieve balance in the dynamics of yoga, just like in life, quite coincides with the fact that staying at our center in chaos. Time spent on the balance board supports our relationship with life much more than we think.
The original and suitable design of portable cribs provides for a safe use. It is also suitable for use as a balance board through the special roller for the Yogin with stoppers that can be attached to the crib slots.
Many yoga approaches, such as Hatha Yoga, Vinyasa, Kids Yoga, Acro Yoga, can be practiced on the Yogin. In addition, Yogin is an unique auxiliary equipment for training in other disciplines, such as Surf, Pilates, Fitness
This set consists of a Chiboard Yogin Deck and Chiboard Yogin Cribs set of 3.
Tech specs for deck
| | |
| --- | --- |
| Length | 174 cm (68.5'') |
| Width | 40 cm (15.7'') |
| Direction of ride | 360° |
| Crib count | 3 |
| Stopper combinations | 2, 4, or 6 |
| Max weight | 90 kg (200 lbs) |
| Shape | Yogin |
| Graphics | Yogin |
Tech specs for crib
| | |
| --- | --- |
| Width | 40 cm (15.7'') |
| Height | 7,7 cm (3'') |
| Difficulty | Rookie |
Categories
Surf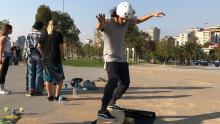 Yoga