Chiboard Surfer Mandala Rookie Set
Chiboard Surfer Mandala Rookie Set is the Surfer Rookie Set with the beautiful mandala deck graphics. It consists of a Chiboard Surfer Mandala Deck, a Chiboard Surfer Rookie Roller, and Chiboard Adjustable Stopper Set of 4.
This combination is great for surfers and skaters of any kind. Whether you ride waves, kitesurf, windsurf, snowboard, longboard on the street, wakeboard or paddle board, you are on-board! Ride your Chiboard Surfer Mandala when there are no conditions, when you going to warm-up before surfing, or warm-down after surfing. It is the perfect balance training to increase your skills. 
You can lay down on Chiboard Surfer Mandala and do wave catching drills, pop-up training, and get barreled. Knee ride, nose ride or hang ten, hang five, longboard walk-arounds, longboard stepping and dance, kitesurf carvings, kiteboard grabs, spins are only the beginning!
Tech specs for deck
| | |
| --- | --- |
| Length | 96 cm (34') |
| Width | 34 cm (13'') |
| Directions of ride | 360° |
| Number of stoppers | 2, 4, or 6 |
| Maximum weight | 110 kg (242.5 lbs) |
| Shape | Surfer |
| Graphics | Manala |
Tech specs for roller
| | |
| --- | --- |
| Length | 75 cm (30'') |
| Diameter | 9,5 cm (4'') |
| Difficulty | Rookie |
Categories
Board sports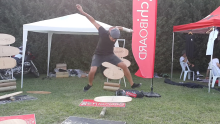 Surf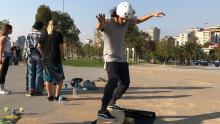 Snowboard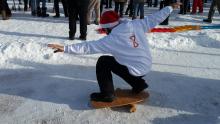 Kitesurf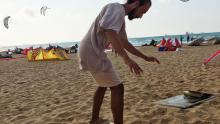 Longboard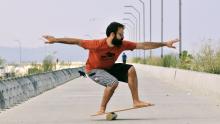 SUP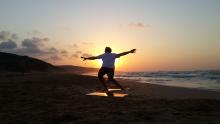 Yoga