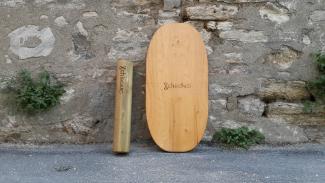 Chiboard Kids Rookie Set
We are doing our best to dispatch shipments during local lockdowns but impediments are probable. Hence we may only be able to send your order after the lockdown. Please be aware. Shipments are scheduled every Tuesday and Friday during Covid19 period. We isolated our processes for our employees security. There can be delays due to Covid19 related shipment issues. Thank you for your understanding.
Chiboard Kids Rookie Set, bir Chiboard Kids Deck, bir Chiboard Rookie Rulo, ve bir Chiboard Ayarlanabilir Takoz 2'li Set'ten oluşmaktadır. 
Genç yaşlarda kaba motor becerileri, ince motor becerileri ve görsel-motor koordinasyonlarının gelişimi için denge tahtası egzersizleri hem çok eğlencelidir, hem de yapılan çalışmalarda çocuk ve ergenlerin gelişiminde belirleyici farklar izlenmektedir. Denge tahtası ile egzersiz yapan çocuk ve ergenlerin stabilizasyon ve mobilite, el-göz koordinasyonu, dikkat ve motivasyon yetenekleri belirgin bir şekilde artmaktadır. Bireylerde tüm spor disiplinlerinde ve akademik becerilere adaptasyonda başarıyla doğru orantılıdır.
Tahta için teknik özellikler
| | |
| --- | --- |
| Uzunluk | 70 cm (28'') |
| Genişlik | 34 cm (13'') |
| Sürüş yönü | 360° |
| Takoz sayısı | 2 or 4 |
| Maksimum ağırlık | 95 kg (210 lbs) |
| Model | Kids |
Rulo için teknik özellikler
| | |
| --- | --- |
| Uzunluk | 48 cm (19'') |
| Çap | 9,5 cm (4'') |
| Zorluk | Rookie |
Categories
Child development